In the classic children's story Stone Soup, three tired, hungry soldiers arrive in a village looking for food and a bed to sleep in. At first the villagers are wary, so the soldiers sigh and say there's nothing for it but to make stone soup. They put three round, smooth stones into a large pot while the villagers look on, intrigued. "Stones like these generally make good soup. But oh, if there were carrots, it would be much better." "Why, I think I have a carrot or two," said Françoise, and off she ran. She came back with her apron full of carrots from the bin beneath the red quilt. And so it goes as one by one, the villagers share their cabbages, potatoes, milk, barley and a side of beef to add to the soup. Eventually, tables are set in the square, torches are lit, bread and a roast and cider are brought out and everyone has a feast that lasts far into the night.
I was reminded of this story at the Inishfood festival in County Donegal last weekend. While there was nothing but hospitality right from the start for all the people who had traveled the length and breadth of the country to make it up to the Inishowen peninsula, the northernmost part of Ireland, what had started out as a bare bones idea — just a question from myself and Caroline asking Donal Doherty of Harrys Restaurant if he'd be interested in having a few food bloggers from the IFBA up to dinner one Saturday in March — became a "Glastonbury of food" as the buzz about it grew on Twitter and more and more people became involved and we named it Inishfood. After we'd set March 12 as the date, Donal asked if Imen McDonnell would come up and demonstrate how to make homemade butter. A few days after that, he put out the question on Twitter if there would be any interest in making fresh black pudding. Then there was no stopping the momentum. "I'll bring my bacon vodka!" said Ed Hick. "I'll bring my cheese and raw milk!" said David Tiernan. "We'll bring beer for a beer tasting!" said Seaneen and Collin.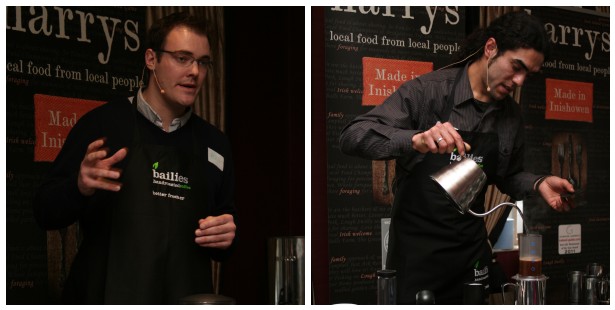 Ross from Bailies Coffee talks beans and Juan shows the proper way to brew coffee at home
And on and on it went until last Friday, Darren Bradley opened his home to 40 strangers and fed us gourmet pizzas from his wood-fired pizza oven while Seaneen and Collin from L Mulligan Grocer brought bottles of Belfast Blonde, Copper Coast and a keg of Dark Arts for a beer tasting. After walking back up the lane to the Linsfort Castle B&B next door for a Rambling House session of old-fashioned storytelling and music, people crowded into the kitchen for a late-night bowl of venison stew brought over from Harrys, while in the dining room next door, the table was full with breads, cheeses and cakes people had brought to share.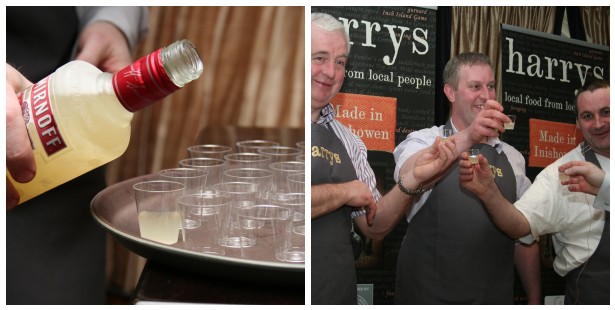 Legendary Irish butchers Jack McCarthy, TJ Crowe and Ed Hick share a toast with Ed's homemade bacon vodka. To the pig!
And that was just the start! On Saturday, Ross from Bailies Hand Roasted Coffee and Juan from Coffee Angel brought coffee and kept us caffeinated throughout the day; TJ Crowe brought his bacon, sausages and hams; Jack McCarthy brought his renowned black pudding as well as three different cures for the pork curing demo, which Bord Bia sponsored with Quality Mark Irish pork; Ed Hick brought a bottle of his bacon vodka to pass around and made fresh black pudding before our eyes; Imen McDonnell demonstrated how to make homemade butter that we sampled on slices of Donal's mother's homemade soda bread; and David Tiernan brought his Glebe Brethan cheese as well as raw milk from his farm that Juan used to make the creamiest flat white coffee you'll ever have. There were more homemade treats that people had brought for sharing that day too, like Sarah's flapjacks, Tara's flourless chocolate tart, Caroline's world peace cookies and my almond and candied bacon bark made with TJ's bacon (and which the man himself very much approved of!).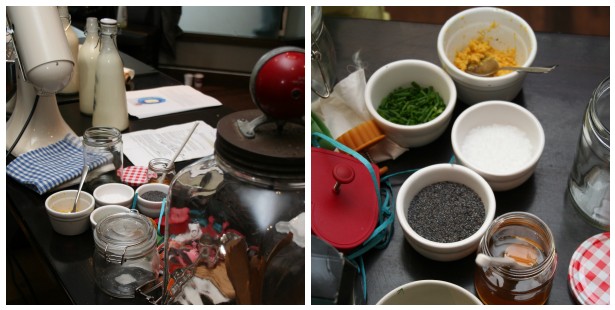 Imen sets up for making butter, complete with add-ins like honey, lemon zest and chives
When Caroline and I first approached Donal about coming up for a visit, we thought we'd be doing well to get half a dozen bloggers to make the trip north — and that would be including the two of us. In the end, about 70 people sat down at long communal tables to a Taste of Inishowen feast that included Donegal rapeseed oil infused with foraged wild garlic for dipping bread in, langoustine and cognac bisque, salt cod croquettes, a black pudding with chocolate, pistachio and mint that Jack McCartthy created just for the event, shin of beef ravioli and more. The wine was kept flowing thanks to Gary from Red Nose Wine and plate after plate of local food was set down in front of us for sharing family style, which was perfectly fitting for the day that was in it. After dessert, a three-piece band set up to add to the party atmosphere and we raffled off hampers of Irish artisan food and various vouchers, raising €1,700 for Barnardos (Donal also raised €630 for iCARE by donating €10 from the day's fee of €40 to the charity). Copies of Ireland for Food Lovers and bottles of Football Special were handed out to everyone as well as Harrys T-shirts, which were promptly pulled on over dresses and sweaters. After midnight, we piled into a bus that took us all back to our hotels and B&Bs, happy, tired and very well fed.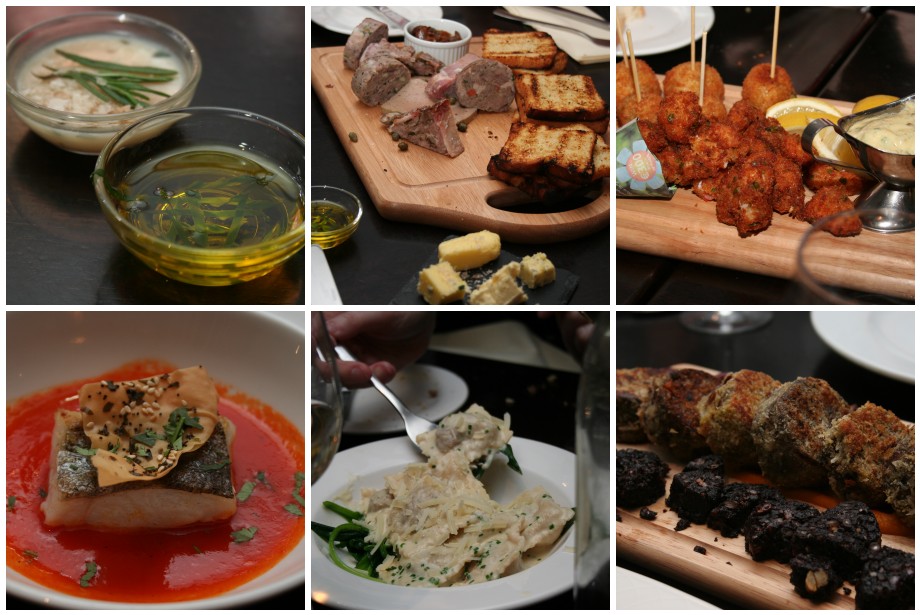 A Taste of Inishowen feast
I had expected to have a fantastic time at Inishfood. What I hadn't expected was how it would affect the people who were at it. All this week, the tweets, photos and blog posts have been steadily rolling in, and it seems everyone has been inspired in some way. Many of us are daydreaming about building our own pizza ovens in the back garden after admiring Darren's, while Darren himself is now thinking of running a weekly summertime pop-up restaurant like the Pizza Farm in the US. David from the Rowallane Garden Kitchen and the team at L Mulligan Grocer want to start making their own butter in their restaurants; Aoife from the I Can Has Cook? blog is determined to try growing some of her own herbs and veg this year; and I saw a chef tweet that he'd been inspired to rewrite his menu using local food. As for me, I stood by the empty greenhouse during the garden tour at the end of the day with bloggers Aoife and Lucy and told them I couldn't help but feel that we were witnessing the start of something special at Harrys with Donal and that one day we'd be able to look back and say, "I was there at the start of it all."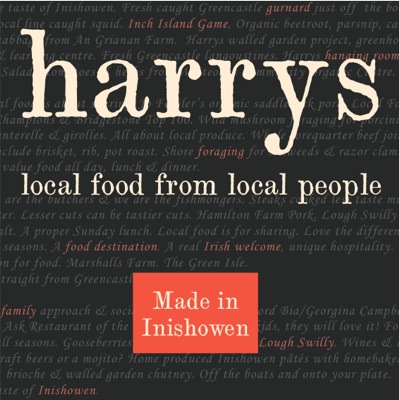 These past few whirlwind weeks of being involved with Inishfood, I kept trying to put my finger on how best to define it. A pop-up food festival? We certainly hadn't meant for it to blossom into a weekend-long event, but that's what it became. An underground food festival? The event was fueled solely by social media as word of it spread on Twitter and Facebook, although the Sunday Business Post and the Irish Times eventually picked up on the story once plans were in full swing. In the end, I've decided to think of it as a stone soup festival, an event made possible and successful precisely because of everyone's involvement in and contributions to it. If not for the driving enthusiasm and vision of Donal Doherty and all the people who shared their expertise in the demos as well as the food bloggers, writers, producers, chefs and farmers who came to learn and enjoy the day, it would have just been a few bloggers at a quiet dinner, much like those three stones alone in the pot in Stone Soup. Instead, it was a feast and a celebration of Irish food.
At the end of the story, the villagers thank the soldiers for what they taught them. "We shall never go hungry, now that we know how to make soup from stones." "Oh, it's all in the knowing how," said the soldiers, and off they went down the road. Thank you again to Donal Doherty for "the knowing how" — for taking a small idea and running with it to bring people together to highlight the very best in Irish food.
Harrys Bar and Restaurant
Bridgend
Inishowen
County Donegal
+353 (0)74 936 8544
www.harrys.ie
@harrysdonal