Is there a better place to be on a sunny October day than an apple orchard? I couldn't think of one when I was at Stagrennan Farm 10 days ago as part of an orchard tour organized by Bord Bia (the Irish Food Board) to show off the often unsung Bramley apple.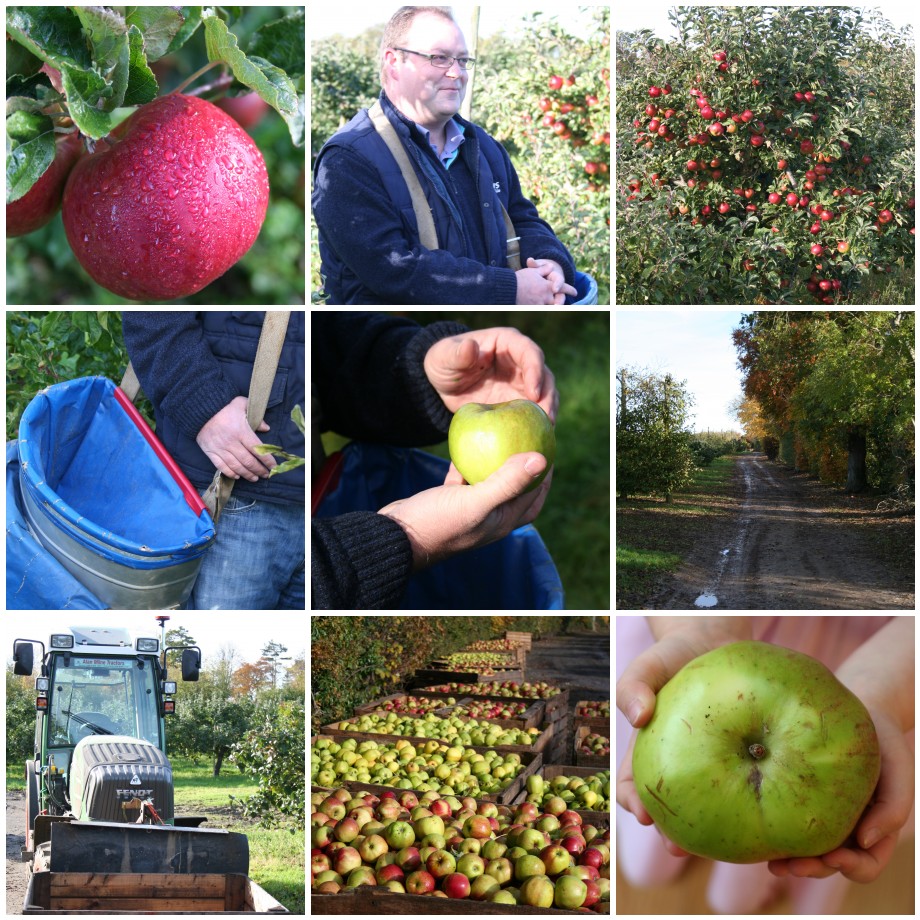 When I arrived, I was promptly offered the obligatory cup of tea along with a slice of Fiona McNeece's homemade apple cake and apple, blueberry and sloe crumble. Her brother Olan also works at the orchard, which their father bought in 1962 in Drogheda, County Louth. Fiona and Olan have apples in their blood — they are the fourth generation of their family to grow Bramleys (their great-grandfather planted a Bramley orchard as part of his small farm in County Armagh in the late 1890s, and their grandfather went on to buy his own farm in 1933, also in Armagh). Approximately one-third of the world's supply of Bramley apples are grown in Ireland, where they have been grown for 200 years, and the McNeeces are proudly part of that tradition.
Like many people you talk to involved in growing and producing Irish food, Olan was enthusiastic about talking about apples and taking us around his farm, which even extended to showing off their new vineyard tractor, which is narrower than normal tractors so that it can fit between the rows of a vineyard or orchard. Clad in wellies and waterproof hiking boots because of the previous day's heavy rain, we piled into the farm's jeep and followed Olan in the tractor as he wound down a maze of lanes. Once we were standing amongst the trees, he explained that the orchard is organic in all but name — they have a weather station in the orchard to predict disease in their own micro-climate and they follow integrated pest management to allow natural predators to do away with harmful pests — so we happily ate apples straight from the tree.
But we weren't eating Bramleys — while those are the main crop at Stagrennan Farm, they also plant a variety of other apples to aid pollination. Apples are often divided into eaters and cookers, and Bramleys are the latter. In fact, they're the only apple available for the sole purpose of cooking. When cooked, Bramleys break down into a fluffy, frothy puree, which I found out for myself when I made a delicious apple compote using Bramleys after watching Hugh Fearnley-Whittingstall make it that way a few weeks ago on River Cottage Everyday. Just like Hugh said, the resulting compote was silky smooth, and was so good that I'll never make applesauce with any other apple again.
We left the orchard laden down with a huge box of Bramleys and eating apples, along with samples of some products Olan and Fiona are hoping to bring to market soon: apple juice, apple and Calvados sauce, apple and white port sauce, apple and ginger jelly, roasted apple marinade, spiced apple chutney and, my favorite, apple and quince jelly. When I got home with my bounty, my kids ate two apples each and helped me peel the 6 pounds worth of Bramleys to turn them into enough compote to last us for a week.
Thank you again to Olan and Fiona McNeece for so generously hosting us and to Bord Bia for organizing the tour. Olan told us we'd have to come back to the orchard again in the spring, when the trees are in bloom, and after seeing how beautiful it was with the blazing autumn colors, I think we might just take him up on that.
Stagrennan Farm
Boyne Grove Fruit Farm Ltd
Stameen
Drogheda
County Louth
+353 (0)41 983 7333